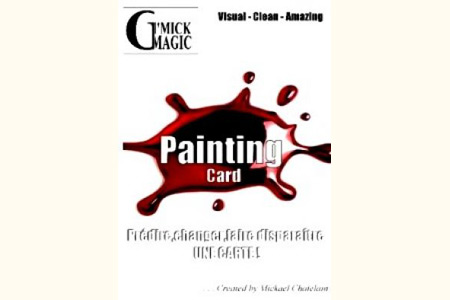 Description
Encore une création fabuleuse de
Chatelain
! Ce gimmick très utile va vous permettre d'exécuter différents effets aussi visuels les uns que les autres. De plus, vous serez sans doute surpris par sa
simplicité d'exécution
. Painting Card fait sans doute partie de ses créations les plus
Flash et efficaces
.
Avec Painting Card, vous serez en mesure de présenter des
prédictions, disparitions et des changements de couleurs
sous les yeux des spectateurs !
Mickaël a également sélectionné pour vous ses
3 routines
préférées :
Prédiction impossible :
Le magicien montre deux as noir face en l'air, et une carte au milieu face en bas représentant sa prédiction.
Il place ces 3 cartes en éventail sous un verre, ou autre support, afin qu'elles soient bien en vue de tout le monde.
Un spectateur choisit librement une carte dans le jeu, le spectateur signe sa carte puis la replace dans le jeu qui est immédiatement mélangé.
Le moment de vérité approche, la prédiction est-elle juste ?
Il retire lentement le verre, met à part les deux as noir et demande au spectateur de retourner la prédiction . . . Le spectateur ne pourra pas en croire ses yeux car, non seulement
la prédiction est 100 % juste mais en plus, il s'agit de sa propre carte car celle-ci est signée de sa main !
Imaginez la scène en close-up, un effet surréaliste qui ne demande pas la moindre technique . . .
Le gimmick s'occupe de tout !
Changement de couleur :
Une carte à dos rouge est choisie parmi un jeu rouge. Le spectateur peut signer cette carte.
La carte va changer à vue pour devenir bleue
.
Un final très fort pour le spectateur !
Aucun change, pas de manipulation, rien à cacher, une illusion vraiment géniale !

Le voyage :
Une carte signée choisie par un spectateur va
disparaître d'entre deux autres cartes pour se retrouver à l'intérieur du jeu
à l'envers parmi les autres cartes…
Un effet rapide comme l'éclair, sans manipulation et sans empalmage !
en détails
Aucun forçage
Aucun empalmage
Aucune manipulation
Effets flash, clean et simples à présenter
DVD d'explication en Français + Gimmick
Fabrication artisanale
Excellente qualité

Return to the catalogue


You can find this magic item in :
1.
Coffret Painting/Watcher/INK
70 €