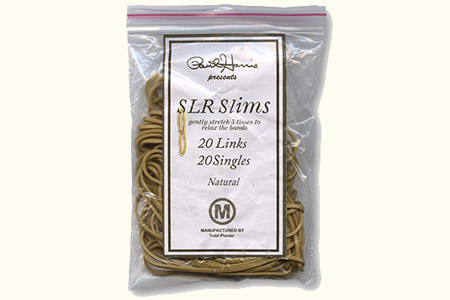 Description
SLR est un tour prodigieux avec deux élastiques séparés qui vont s'entrelacer d'un seul coup et qui pourront être ainsi offerts au spectateur comme souvenir
. Le spectateur remportera donc deux élastiques parfaitement encastrés l'un dans l'autre. L'objet offert en soit est inconcevable.


Il est impossible d'entrelacer deux élastiques de cette façon, et l'idée de l'offrir ainsi au spectateur est vraiment géniale !
Regardez la vidéo pour vous rendre compte de la facilité et la rapidité avec laquelle on va entrelacer puis défaire les deux élastiques. C'est impressionnant !
Recharge de 20 élastiques truqués et 10 élastiques normaux
Elastiques fins ordinaires d'une haute résistance et qualité

Return to the catalogue


We advise you with this product :
1.
Japanesse rubberbands Stars
10 €

2.
Nouveaux Tours d'élastique
27 €