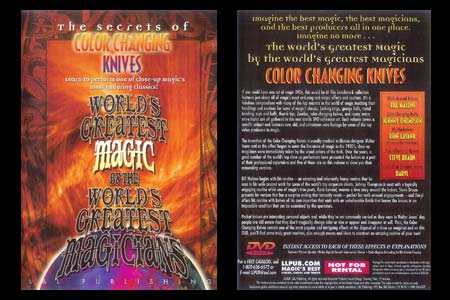 Description
Si vous deviez posséder une seule collection de DVD sur la magie ce serait celle-ci !
Cette collection très réputée reprend
les meilleurs effets et routines de la magie par les meilleurs magiciens du monde.
C'est un fabuleux recueil dans lequel de nombreux maîtres magiciens vous apprennent leurs mouvements personnels ainsi que leurs routines pour des thèmes classiques de la magie.
Cette idée d'avoir produit des DVD à thèmes est géniale car c'est si enrichissant d'avoir des techniques et des idées venant de différents maîtres sur un même sujet.
Anneaux chinois, balles éponges, torsion du métal, balles et gobelets, faux pouces, zombie, canifs caméléons et de très nombreux autres sujets sont tous abordés dans cette impressionnante collection de DVD de référence.
Ce DVD porte sur le thème des
canifs caméléons
. Ce tour qui est aujourd'hui très célèbre dans le milieu du close up à été créé dans les années 1930 par
Walter Jeans
.
Le côté très visuel de ce tour à séduit les plus grands magiciens de la planète qui chacun l'a intégré a ses propres routines.
Vous trouverez en effet de quoi vous amuser avec ces
couteaux qui changent de couleur
, apparaissent, disparaissent ou qui changent carrément de taille.
Grâce à ce précieux DVD,
vous allez apprendre les secrets de grands magiciens comme Daryl, Bill Malone ou René Lavand…



Au sommaire :


Walk around Knives
- Bill Malone
Color changing Knife - Johnny Thompson
My Penknives - René Lavand
Color Changing Knives - Steve Draun
Daryl's Color Changing knives - Daryl
Langue : Anglais
Durée : 37 min

Return to the catalogue




We advise you with this product :
1.
Color Change Knife
14 €