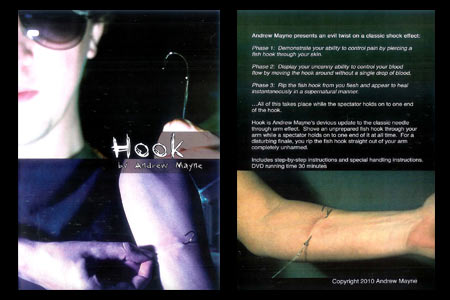 Description
Andrew Mayne
présente un effet percutant, voir même gênant, qui provoquera un certain choc chez les spectateurs.
Attention, il s'agit là de
magie trash !
Phase 1
: Démontrez votre capacité à contrôler la douleur en perçant un hameçon à travers la peau.
Phase 2
: Affichez votre incroyable capacité à contrôler votre flux sanguin en se déplaçant autour de l'hameçon sans une seule goutte de sang.
Phase 3
: Retirez brutalement l'hameçon de votre chair et votre plaie semble guérir instantanément d'une manière surnaturelle.
... Ce qui est fort, c'est que le spectateur tire de l'hameçon pendant vos démonstrations par le biais d'une corde qui en est attachée.
Ce DVD comprend les
instructions détaillées étape par étape
et les consignes particulières de manipulation.
L'hameçon grand n'est pas inclus.
Magie trash
Les spectateurs risquent d'être choqués à jamais
Méthode très détaillée
DVD en anglais
Durée environ :
30 minutes

Return to the catalogue




We advise you with this product :
1.
Rubber Cement
8.5 €