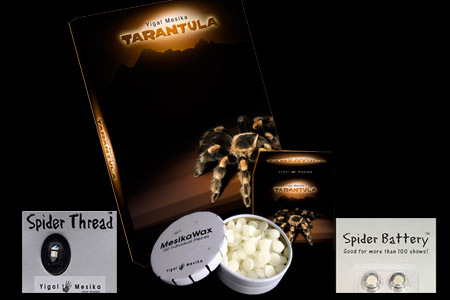 Description
Sans doute
l'effet le plus incroyable qui n'ait jamais été créé, Tarantula est un nouveau système de lévitation hors du commun
signé Y. Mesika, le créateur des fameuses Loops.
L'effet décrit ci-dessous est ahurissant :
Le magicien qui se trouve dans un lieu anodin, comme un café, un restaurant ou une place publique, va emprunter une alliance et la montrer aux spectateurs. Il n'y a rien de suspicieux et ses mains sont montrées totalement vides…
Il va ensuite poser la bague dans la paume de sa main et lui donnez une petite pichenette.
C'est alors que la bague se met à léviter en tournoyant sur elle-même ! Elle continue encore sa danse aérienne indéfiniment sans qu'il ne la touche.
Elle monte, puis descend au dessus de sa main, va se poser à l'intérieur d'un verre...
Le plus spectaculaire se produit pour le final !
Le magicien demande à la spectatrice à qui il a emprunté la bague de tendre sa main et d'écarter ses doigts. Elle s'exécute et
la bague, tout en tournant à toute vitesse sur elle-même, vient se placer au dessus de son doigt et tombe d'un coup
pour venir s'enfoncer toute seule autour du doigt.
Hallucinant !
Ce
lot très intéressant
qui vous permettra d'économiser plus de 15% comprend :
- Le Gimmick Tarantula (1 bobine et 1 pile inclues) et son DVD
- Une recharge de bobine de plus
- Deux piles de rechanges en plus
- Une boite de cire Mesika
Effet dévastateur
Accessible à tous
Se fait entièrement entouré
Les mains sont montrées vides à tout moment
S'active très rapidement
DVD en anglais très détaillé
(facilement compréhensible si on ne parle pas la langue) +
Gimmick ingénieux

Ce DVD comporte 5 effets très détaillés : Vol stationnaire, l'incroyable paquet hanté, argent magnétique, stylo magique, et lévitation d'un billet. Tous ces effets utilisent ce gimmick génial qui vous est livré avec le DVD. Vous allez vous éclater !

Return to the catalogue


The items from this "Magic Set"
We advise you with this product :
1.
Lightweight Half Dollar
26 €