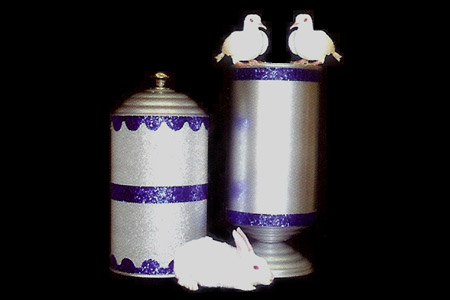 Description
Voici une
solution très visuelle
pour transformer vos colombes en lapin, ou bien votre lapin en colombes, mais aussi vous pouvez simplement produire des animaux de l'intérieur en montrant au départ le tube vide.
En effet ce matériel est basé sur le système d'une casserole magique, c'est à dire que la charge se trouve dans le couvercle, mais la différence c'est qu'il est en forme de tube, offrant donc un
plus grand espace à la fois de charge et de change
.
Vous pouvez utiliser ce tube magique pour de
multiples applications
: transformations d'animaux, productions, disparitions, transformation d'objet en animal, transformation de feu en animal. Ce tube magique peut également servir à
forcer
quelque chose (papier ou autre) : même utilisation qu'une quêteuse !
De plus, son
design est très esthétique
habillé d'un gris brillant a paillettes bordé par des lignes de couleur orange et noire (pas la même couleur que sur la photo).
Vous apprécierez la
fiabilité
de ce mécanisme et la
haute qualité
de ce matériel.
Très facile d'utilisation
Change automatique
Multiples applications
Mécanisme fiable
Qualité Tora


Dimensions :
Hauteur
= 33 cm
Diamètre
= 13 cm
Hauteur de l'espace de charge
= 15 cm
Hauteur de l'espace de change
= 8 cm.

Return to the catalogue


We advise you with this product :
1.
Change Bag Zipper
30 €