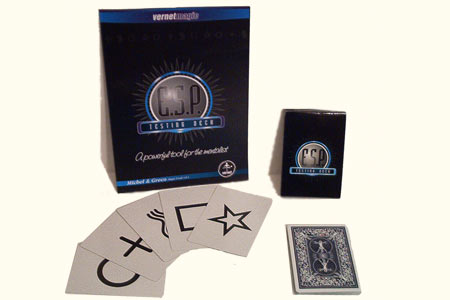 Description
Ce jeu est composé de
25 cartes
au total, avec 5 cartes de chaque famille.
Les familles sont le cercle, la croix, les vagues, le carré et l'étoile.
C'est en fait un jeu ESP classique (Extra sensorial perception), mais avec la grande particularité d'être
marqué sur les tarots
.
Le marquage est à la fois
très visible et rapide au niveau de la lecture
, mais invisible pour les spectateurs qui ne le connaissent pas et qui ne se doutent pas d'ailleurs que le jeu est marqué.
Vous pourrez réalisez avec ce jeu une
multitude de tours et d'effets
. Voici l'effet de la routine expliquée en français sur la notice :
Le magicien mélange son jeu E.S.P. puis le pose sur la table. Il demande à un volontaire de couper le jeu et de regarder le symbole de la dernière carte sur laquelle il a coupé, et de bien le garder en mémoire. Le spectateur est invité à remettre le jeu en ordre et à couper de nouveau celui-ci.
Alors le magicien se concentre, il prend la main du spectateur et commence à rentrer en transe. Il demande au spectateur de bien vouloir se concentrer sur le symbole qu'il vient de regarder et de bien le visualiser.
Le magicien sort ensuite un carnet, et prend un crayon, sa main bouge, il a les yeux fermés, on dirait que sa main se met à dessiner toute seule.
Le symbole que le spectateur a choisi librement vient de se dessiner sur la feuille
. C'est impressionnant !
Jeu de 25 cartes ESP
Marquage très efficace
3 routines expliquées en anglais
Une très bonne routine expliquée en Français
Jeu de qualité vernet
Tarot élégant de couleur bleu

Return to the catalogue


We advise you with this product :
1.
Les cartes ESP
25 €

2.
WireGram Etoile
20 €