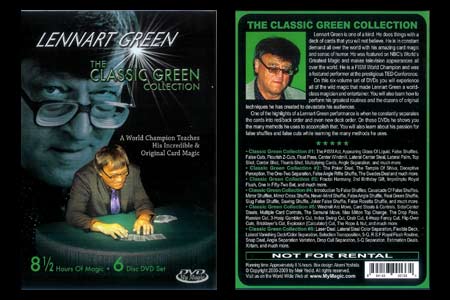 Description
Découvrez dans ce
coffret de 6 DVD
, plus de
8h30 de magie pure et visuelle
.
Lennart Green
est l'un des plus grands cartomanes de la planète. Il a été
champion du monde
en cartomagie. Très réputé dans le monde entier, il est très demandé partout dans le monde par rapports à sa magie des cartes.
Les créations de cet homme parviennent très souvent à se rapprocher de
véritables miracles
. Une
magie intelligente, forte, et d'une incroyable richesse
.
Vous retrouverez dans ce coffret
l'intégralité de sa collection de DVDs
, dans laquelle il vous présentera et révèlera un très
grand nombre de routines
mais également une
douzaine de techniques
qu'il a lui-même élaborée et qui anéantiront votre assistance. Vous ne pourrez en aucun cas ressentir la moindre déception en visionnant ce coffret…
Il est génial et vous apportera un savoir unique !


Au Sommaire :

DVD 1 :
Durée : 110 minutes environ The FISM Act, Appearing Glass Of Liquid, False Shuffles, False Cuts, Flourish Z-Cuts, Float Pass, Center Windmill, Lateral Center Steal, Lateral Palm, Top Shot, Center Shot, Thumb Shot, Multiplying Cards, Angle Separation, Additional Comments, …
DVD 2 :
Durée : 75 minutes environ The Poker Deal, The Temple Of Shiva, Deceptive Perception, The One-Two Separation, False Angle Riffle Shuffle, The Swedes Deal, ….
DVD 3 :
Durée : 80 minutes environ Fractal Harmany, 2nd Birthday Gift, Impromptu Royal Flush, One In Fifty-Two Bet, …
DVD 4 :
Durée : 70 minutes environ Introduction To False Shuffles, Cavalcade Of False Shuffles, Mirror Shuffles, Mirror Cross Shuffle, Never-Mind Shuffle, False Angle Shuffle, Real Green Shuffle, Slug False Shuffle, Sawing Shuffle, Joker False Shuffle, False Rosetta Shuffle, …
DVD 5 :
Durée : 65 minutes environ Windmill Arc Move, Card Steals & Controls, Side/Center Steals, Multiple Card Controls, The Samurai Move, Max Milton Top Change, The Drop Pass, Russian Cut, 3-Heap Gambler's Cut, Index Swing Cut, Crab Cut, 6-Heap Fancy Cut, Flip-Over Cuts, Bricklayer's Cut, Explosion (Calculator) Cut, The Rope & Nut, …
DVD 6 :
Durée : 110 minutes environ Laser Deal, Lateral Steal Color Separation, Flexible Deck, Lateral Vanishing Deck/Color Separation, Selection Transposition, 5-Q, R.S.F Royal Flush Routine, Snap Deal, Angle Separation Variation, Drop Cull Separation, 5-Q Separation, Estimation Deals, Xirtam, …
Nécessite de solides bases en cartomagie
Coffret de 6 DVD
Durée total du programme : 8 h 30 minutes environ
DVDs en Anglais

Return to the catalogue




We advise you with this product :
1.
BICYCLE Deck
3 €