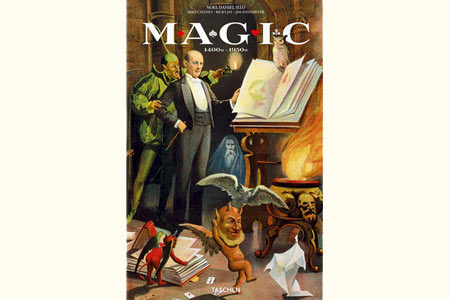 Description
Voici la nouvelle édition : même contenu, pour un prix beaucoup plus abordable...


L'histoire des plus grands magiciens allant
du Moyen Âge aux années 1950.
La magie enchante l'humanité depuis des millénaires, suscitant l'effroi, le rire, la stupeur et l'émerveillement. Autrefois persécutés comme hérétiques et sorciers, les magiciens ont toujours été les intermédiaires d'un univers parallèle aux possibilités infinies, qu'ils évoquent des esprits, lisent dans les pensées ou inversent les lois de la nature par un tour de passe-passe. Longtemps avant la science-fiction, les réalités virtuelles, les jeux vidéo et l'Internet, l'art de la magie était le monde imaginaire le plus puissant que l'homme ait connu. Véritables pionniers des effets spéciaux, les magiciens n'ont cessé de nous plonger dans la perplexité en rendant l'impossible possible.
Cet ouvrage rend hommage à plus de cinq siècles d'une étourdissante culture visuelle représentée par les plus grands magiciens du monde. Rassemblant
plus de 1 000 documents rarement vus
- affiches, photographies, programmes, gravures, ainsi que des tableaux de Jérôme Bosch et du Caravage, entre autres -
sur 650 pages
, il retrace l'histoire de la magie du 15e siècle aux années cinquante. À l'aide d'illustrations sensationnelles et d'un texte clair et pénétrant, Magic explore l'art du magicien, depuis les premiers escamoteurs officiant dans la rue aux brillants prestidigitateurs se produisant dans les théâtres, depuis l'art d'or de la magie au 19e siècle aux risque-tout révolutionnaires tels que Houdini et les artistes de vaudeville du début du 20e siècle.
À propos de l'éditeur
:
Après avoir terminé ses études à l'université de Princeton, dotée d'une bourse Fulbright,
Noel Daniel
se rendit à Berlin, obtint le diplôme de master à Londres et dirigea une galerie de photographie avant d'être éditirice à Los Angeles.
À propos des auteurs
:
-
Mike Caveney
est écrivain, éditeur, collectionneur et magicien professionnel. Il a publié plus de cinquante ouvrages sur la magie et est notamment l'auteur des biographies Carter the Great (1995) et Kellar's Wonders (2003). Artiste accompli, Caveney s'est produit dans plus de vingt pays et a participé à la série télévisée de la NBC World's Greatest Magic. C'est un fervent collectionneur depuis plus de trente ans.
-
Jim Steinmeyer
est l'auteur de nombreux livres sur l'histoire et la pratique de la magie, dont Hiding the Elephant (2004), qui a figuré sur la liste des best-sellers du Los Angeles Times, et The Glorious Deception (2006). Il a créé des illusions pour de grands magiciens tels que Doug Henning, David Copperfield et Siegfried et Roy, ainsi que des effets spéciaux acclamés par la critique pour les spectacles de Broadway Mary Poppins, La Belle et la bête et Into the Woods.
À propos du co-auteur
:
Ricky Jay
l'un des meilleurs magiciens du monde a participé à ce livre, Il est également un acteur, auteur et historien reconnu.
Attention aux dimensions : 25 x 38 cm
Plus de 1000 documents inédits
544 pages illustrées
Le livre est en Edition multilingue: Allemand, Anglais, Français

Return to the catalogue
This item is no longer
sold on Magicaplanet