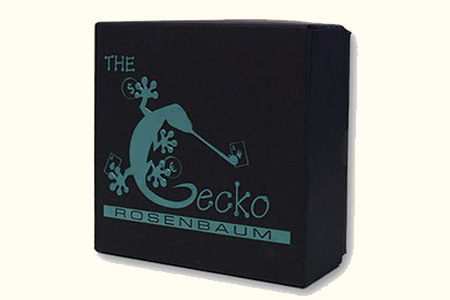 Description
Gecko est tout un arsenal de gimmicks qui vous permettront de réaliser différents miracles :
disparitions
d'objets de toutes sortes,
transformations
d'un objet en un autre de façon très visuelle.
Toutes ces techniques sont très bien expliquées sur le
DVD
en anglais qui est livré avec.
Ces gimmicks sont de la même famille que le fameux « Raven », ou le « Perfect old out », comme le « black widow », a la grande différence qu'il n'utilise
aucun aimant.
Il faut savoir que ces gimmicks
peuvent être utilisés aussi bien avec une veste qu'avec une chemise
(même à manches courtes) contrairement aux autres accessoires comme le « black widow » qui nécessitent obligatoirement une veste.
Cette méthode est
simple d'utilisation
, mais le Gecko vous demandera d'être vigilant sur les angles de visions des spectateurs.
En effet, il est malheureusement difficile (mais pas impossible) de le présenter entouré.
Voici quelques routines qui vous sont expliquées dans le DVD :

Change Up :
Vous demandez à un spectateur de vos donner quelques centimes d'euros que vous placez une à une dans votre main. Vous secouez simplement vos deux mains ensemble et lorsque vous les ouvrez de nouveau, vous tenez désormais des pièces de plus forte valeur (1 euros, 2 euros, 1/ dollars, Dollars, etc.)
Toutes les pièces peuvent immédiatement être examinées, elles sont tout à fait ordinaires


Bottle Cap :
Vous présentez à vos spectateurs une capsule de bouteille toute pliée que vous pouvez faire examiner. Vous invitez un spectateur à déposez celle-ci simplement sur le dos de votre main gauche et passez votre main un bref instant au dessus de la capsule. Lorsque vous retirez votre main votre capsule est de nouveau intacte et peut immédiatement être examinée ou même offerte en souvenir si vous le souhaitez.


Signature Dollars :
Vous empruntez un billet de banque (Dollars ou Euros) à un spectateur. Vous demandez au spectateur de bien l'examiner de tous cotés et de certifier que celui-ci est bien vierge. Vous lui demandez maintenant de plier le billet en 8 vous récupérez ce billet et le déposez simplement dans votre main gauche et le recouvrez de votre main droite. Vous frottez simplement le billet et proposez au spectateur de lui offrir la plus incroyable des cartes de visites.
Vous écartez vos mains et dépliez à nouveau le billet de banque….qui comporte désormais votre signature ainsi que votre numéro de téléphone !
Simple d'utilisation
Arsenal de gimmicks + DVD en Anglais livrées
N'utilise pas d'aimants
S'utilise même en manches courtes
Angles à respecter pour ne pas flasher

Return to the catalogue


We advise you with this product :
1.
Zots (3-D)
5.5 €