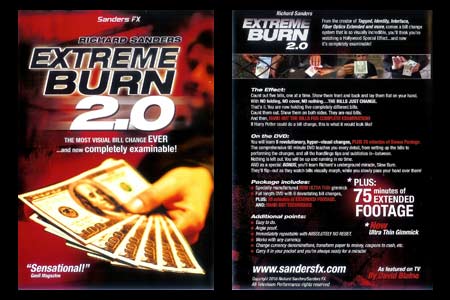 Description
Attention !
Richard Sanders
est de retour avec sa nouvelle version d'extrême burn ! Vous allez faire des ravages !!!
Voici donc
le plus incroyable de tous les changes de billets
de tous les temps : cette fois, les billets sont totalement
examinables !
Présentez une liasse de 4 ou 5 billets, un par un, des deux côtés, placez-les à plat dans votre main, et secouez-les simplement….
Ceux-ci
se transforment instantanément et très visuellement
en une liasse de billets d'autre valeur que les premiers.
C'est très visuel,
les billets se changent d'une simple secousse…
Changez donc un billet de 1 dollars en un billet de 100, ou transformez du papier blanc en billets, transformez de la monnaie étrangère en monnaie locale…
Les possibilités sont infinies…
Extreme Burn 2.0 comprend :
- Tout le contenu de la première version d'Extreme Burn, plus
75 minutes de programme inédit
dont de multiples techniques pour changer plusieurs billets et donner le tout à l'examen.
- De nouvelles idées et techniques vous permettant de réaliser un reset automatique du matériel, même si celui-ci a fait l'objet d'un examen.
- D'autres types de changes comme « The Shake », « The Snap », « Cervon » et bien d'autres…
- De nouvelles manipulations et nouveaux concepts.
- Plus de subtilités et de psychologie !
- Un tout nouveau gimmick ultra fin et plus résistant.
- Un chargeur fin qui vous permettra de transporter vos billets !
Facile à Faire
Reset ultra rapide
Rien à empalmer
Fonctionne avec tous types de billets (Dollars, Euros, Livres… tout !)
Gimmick + DVD en Anglais
Création Richard Sanders

Return to the catalogue
This item is no longer
sold on Magicaplanet