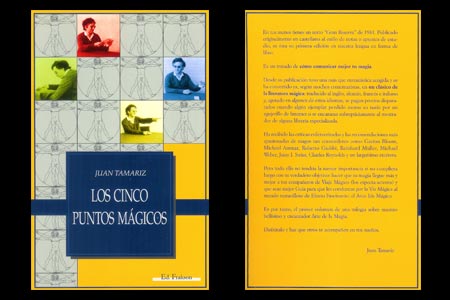 Description
La magie est un moyen fantastique de communication à tous les niveaux.
Juan Tamariz
, qui fait autorité dans le monde de la magie, synthétise la façon de s'exprimer dans ce domaine à travers le
regard
, la
voix
, les
mains
, le
corps
et les
pieds.
C'est un livre d'exception qui montre à quel point la magie est
un art qui foisonne de subtilités…
Illustré par
James Hodges
, il
donnera des ailes à vos tours et à votre prestation.
Vous trouverez aussi dans ce livre en plus des 5 points magique, 5 tours qui vous permettront d'
appliquer les nouvelles connaissances
que ce livre va vous apporter.
AU SOMAIRE :
Préface de George Proust.


Prologue de Juan Tamariz.


Les cinq points magique.
Point n°1 : Le regard.
- La carte imprimé sur le foulard.
- Forçage des cartes embrassées.


Point n°2 : La voix
- Le mot du livre.


Point n°3 : Les mains
- Le coup de poker.


Point n°4 et n°5 : Le corps et les pieds
- La pièce à travers la table


En guise de résumé
Bibliographie( largement commentée).


Langue : Espagnol - Format : 19 x 27 cm – 68 pages – Illustré.

Return to the catalogue




We advise you with this product :
1.
Les cinq points magiques
35 €