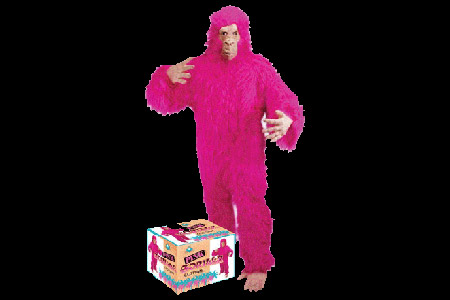 Description
Grâce à ce
costume de gorille rose
complétement déganté, vous serez
déguisé de la tête aux pieds
: Nul ne pourra vous reconnaître !
Ce costume original est composé de
plusieurs parties
.
Tout d'abord, vous avez le corps, en
imitation de poils teins en rose
. Ensuite vous avez 3 parties essentiellement composées de latex qui sont deux gants, la tête constituée d'une cagoule de poils et d'un masque en latex et les pieds.
Ces derniers s'enfilent comme des chaussettes mais sont en latex dur.
Ce costume est idéal pour l'utiliser dans vos
spectacles
, lors d'une
animation
ou à l'occasion d'une
soirée déguisée. Il apportera une touche humoristique et décalée de par sa couleur inhabituelle…

Return to the catalogue


We advise you with this product :
1.
Ventrilquism Monkey Puppet
55 €