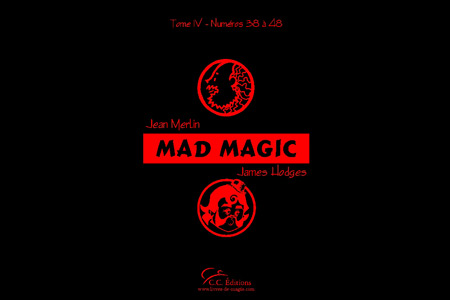 Description
Tome IV – Numéros 38 à 48
Dotés d'un humour explosif et d'un manque flagrant de coté consensuel, Jean Merlin et James Hodges révolutionnent sans cesse l'approche de la magie !!!
La plus importante revue magique !
Oui, cette revue a « dérangé » en son temps.
Non, cette revue ne connaît pas le « politiquement correct ».
Oui, cette revue est remplie de dessin et de textes provocateurs.
Mais n'est ce pas là le rôle de l'artiste que de provoquer ?
Mais, surtout, le contenu est des plus intéressants et est toujours d'actualité… Pourquoi croyez vous que des personnalités comme Bilis, Bloom, Chelman, Flip, Fechner, Goshman, Kaps, Maven, Sanvert, Slydini, Socrate, Switon, Tamariz, et tant d'autres ont écrit dans Mad Magic.
On y trouve de tout :
du close-up, de la scène, des grandes illusions, de la magie pour enfant, des cartes, du bricolage, de la théorie, des réflexions, de la mise en scène…
Une excellente occasion de redécouvrir, voire de découvrir pour les plus jeunes, une magie avant-gardiste dans un contexte de rigolade.
Dans ce volume 4, on trouve notamment :
Numéro spécial John Cornelius
Numéro spécial boîte Okito
Numéro spécial José Vergas
Numéro spécial Fred Kaps
Et encore mille autres merveilles !..

Le tout dans une ambiance de bonne humeur et un style enlevé… Quel talent !…Langue :
français
300 pages illustrées

Return to the catalogue




We advise you with this product :
1.
Mad Magic (Vol.1)
60 €

2.
Apotécari Magic Magazine
95 €