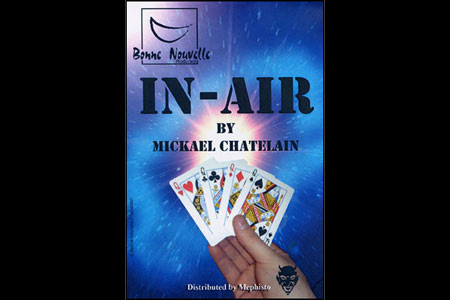 Description
Voici un des
meilleurs effets
créé par
Mickael Chatelin
.
Le magicien présente un jeu bicycle et commence par le mélanger afin de choisir
quatre cartes au hasard
. Il demande ensuite à un spectateur de
choisir une carte parmi les quatre
qu'il tient faces vers le bas. Puis il lui propose de la
conserver
sans la regarder.
Le magicien dévoile alors les trois cartes qui restent dans sa main, il s'agit de
trois cartes de valeurs différentes
. Il ordonne alors au spectateur de choisir une des trois, nous allons supposer qu'il s'agit d'un Valet de Cœur. Les deux autres cartes en main du magicien n'ont rien à voir avec la carte choisie. Et pourtant… Un petit geste sec suffit pour que
toutes les cartes se transforment
d'une manière incroyablement visuelle, pour devenir les deux "sœurs" de la carte choisie (les Valets de carreau, pique)!
Le magicien demande enfin au spectateur de retourner la carte qu'il avait conservé depuis le début : incroyable ! Il s'agit de la
quatrième sœur
(Valet de trèfle)!
Toutes les cartes peuvent
immédiatement être montrées
séparément des deux côtés.
La transformation est
très rapide
! Si vous clignez des yeux à cet instant, vous la raterez. Et si vous ne clignez pas… vous ne verrez pas mieux! Incompréhensible, et donc…
phénoménal
!
De plus, In-Air ne demande
aucune manipulation
, et convient donc à tout le monde !
Tour très visuel
Aucune manipulation difficile
Qualité Bicycle
Format poker

Return to the catalogue


We advise you with this product :
1.
Pour la première fois…
26.5 €