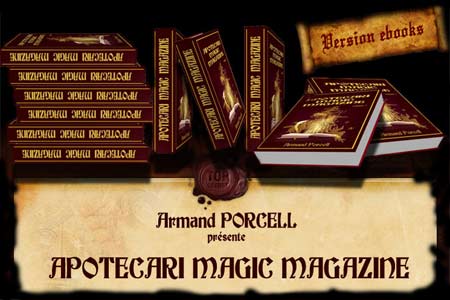 Description
Voici un rassemblement de
toute la collection
des fameux magazines écrits par
Armand Porcell
jusqu'en 1987 disponible
sous format E-book.

L'APOTECARI MAGIC MAGAZINE
était bien évidemment orienté Cartomagie, Close-Up et Mentalisme, mais vous pourrez trouver également dans ces e-books quelques perles de la magie de salon ou de scène.
Beaucoup de ces amis espagnols y ont contribué comme
ASCANIO ou TAMARIZ
.
Ce qu'ils en disent…
"Remarquable travail du discret mais néanmoins talentueux Armand Porcell, l'Apotécari Magic Magazine est un véritable nectar à savourer comme un millésime. Grande source d'enseignement et d'inspiration, à lire et à relire sans modération."
Norbert Ferré
"Une véritable bible magique de 860 pages avec 200 tours, articles et techniques inédites des plus grands auteurs mondiaux de la Magie à découvrir ! L'Apotecari Magic Magazine restera à jamais dans les annales magiques de part son contenu et sa philosophie.
Un grand merci à MONSIEUR Armand Porcell pour cette oeuvre magistrale. Une revue de passionnés pour passionnés."
William Eston
"Tel le phénix, Apotecari Magic Magazine renait de ses cendres pour le plaisir de tous les magiciens... et pour le mien ! Cette petite bible magique s'est refermée quand j'ai commencé ma carrière, mais j'ai pu m'en procurer quelques numéros par la suite et ainsi apprécier la qualité de son contenu. L'annonce de sa disponibilité sous forme d'e-book est une excellente initiative pour la nouvelle génération de magiciens qui n'a pas connu cette revue unique. Merci Armand !"
Boris Wild
" Depuis mon adolescence, j'entends parler de la revue Apotécari Magazine. Ne passez pas à côté de ce beau cadeau conçu par des passionnés pour des passionnés. C'est un témoignage en langue française de ce qui se fait de mieux pour les chasseurs de trésors magiques. "
Sylvain Mirouf
« Si vous aimez la magie, vous aimerez l'apotécari magic magazine ».
Bébel
E-Book. Présenté sous forme d'un CD-Rom en Français

Return to the catalogue




We advise you with this product :
1.
Mad Magic (Vol.4)
60 €