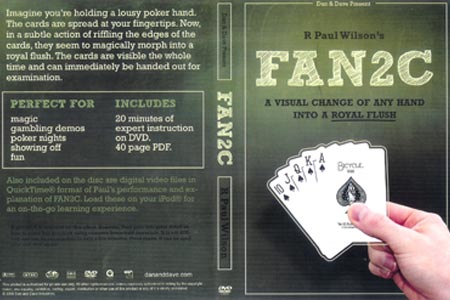 Description
Cet
effet étonnant
pensé par Paul Wilson consiste en la transformation à vue d'œil d'une main de 5 cartes quelconques en une
quinte flush royale
, et ceci en un clin d'œil.
Ce tour est
extrêmement visuel
, les cartes peuvent être choisies par vos spectateurs, et elles se transformeront toujours en une suite de la même couleur allant du 10 à l'as.
Paul Wilson vous explique étape par étape la réalisation de ce tour très efficace. Regardez sa vidéo pour vous faire une idée plus précise de cet effet ahurissant. Bluffant non ?
Effet ultra visuel
Rapide efficace et facile à faire
Les cartes peuvent être choisies par les spectateurs
Après la transformation elles peuvent être données à examiner
DVD en
anglais
, durée :
20 minutes
.

Return to the catalogue




We advise you with this product :
1.
Panic
28.5 €