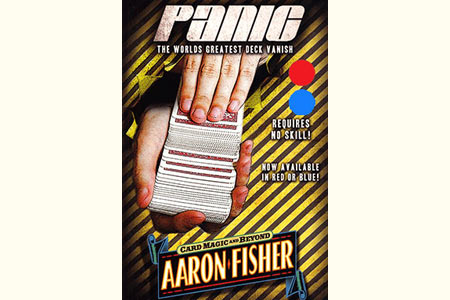 Description
Voici un effet fantastique qui consiste en la
téléportation d'un jeu entier de cartes
, des mains du magicien jusqu'à sa poche.
Cet
effet prodigieux
va bluffer vos spectateurs !
Le magicien possède un jeu de cartes, il met à part les quatre rois qu'il place dans la poche arrière de son pantalon. Ensuite, il éventaille le reste du jeu de façon verticale, puis tout en égalisant le jeu, il le serre et le comprime très fort entre ses mains.
Lorsqu'il ouvre ses mains, le
jeu a disparu
, il ne reste plus que quatre cartes qui sont les quatre rois. C'est incroyable, d'autant plus que dans la poche arrière du pantalon du magicien se trouve le reste du jeu. Une téléportation de cartes à en couper le souffle.
Aaron Fisher
a créé un
effet des plus visuels
!
Vous pourrez utiliser ce
gimmick astucieux
pour créer vos propres routines.
Effet extraordinaire
Facile à réaliser
Le jeu montré entier se réduit uniquement en quatre cartes
Aucun tirage ni laping
Aucun mouvement suspect
Vous pourrez réaliser de nombreux effets spectaculaires
Gimmick très astucieux qualité bicycle Mandolin
Dos Bicycle Mandolin : Bleu ou rouge
Jeu Mandolin nécessaire (non Fourni)
DVD en Anglais de 43 minutes très facile à comprendre si vous ne parlez pas la langue

Return to the catalogue


We advise you with this product :
1.
Jeu Bicycle Mandolin
3.5 €

2.
BICYCLE Mandolin Deck Pack
35 €