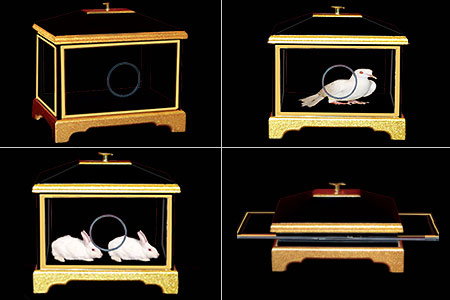 Description
Une très
jolie boite
avec des
parois en plexiglas
qui permet de voir à tout moment ce qu'elle contient. En l'occurrence au début du tour, cette boite est
totalement vide
. Pour convaincre de façon sûr le spectateur que la boite est vide, celle-ci peut être pliée dès le début, et le magicien peut
la monter devant le spectateur
.
En un claquement de doigts, le magicien fait apparaître une magnifique
colombe à l'intérieur
. Celui-ci vient la retirer et la place sur son perchoir.
Ensuite deux autres claquements de doigts et
apparaissent deux lapins
nains.
Quel
boite mystérieuse !
D'où peuvent bien sortir tous ces animaux ?
Vraiment magique !
Effet très magique
Apparitions très rapides
Boite entièrement démontable
Facilement transportable
Qualité Tora

Dimension :
36 x 27 x 36 cm.

Return to the catalogue


We advise you with this product :
1.
Glass pyramid
325 €
Articles of the same author:
Tora