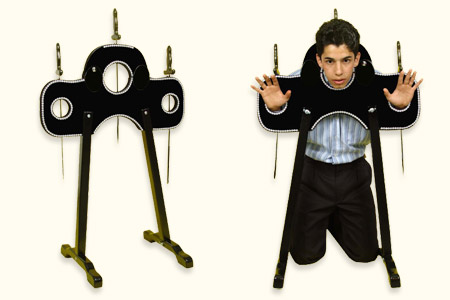 Description
Ce tour est
poignant, bluffant, presque choquant, et pourtant son prix est très raisonnable…
Cette structure ressemble à un instrument de torture. On y place la tête et les mains pour que la personne soit immobilisée. Ensuite
trois belles épées
viennent transpercer les membres de la personne torturée.
Heureusement qu'en magie on peut
faire oublier la douleur
et soigner les blessures…
Cet effet peut être présenté de façon très sérieuse afin de
procurer des frissons
aux spectateurs. Mais il peut également être présenté
avec beaucoup d'humour
. Ce tour est incontestablement un instrument redoutable pour
faire peur ou pour faire rire
les spectateurs.
Très facile à faire
Aucun danger
A présenter de façon comique ou terrifiante
Qualité Tora

Dimensions :
L = 70 cm ; l = 3.5 cm ; Hauteur = 89 cm
Longueur des épées = 65 cm.

Return to the catalogue


We advise you with this product :
2.
Sword thru neck
66.5 €