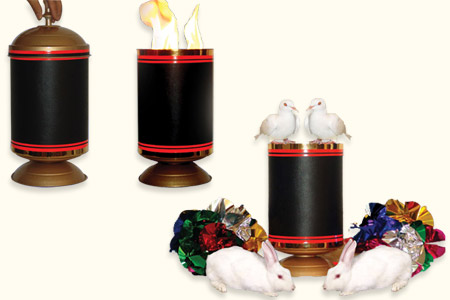 Description
Voici un
incroyable tour de scène
qui impressionnera votre public.
Le magicien présente un gros cylindre noir bordé de rouge, posé sur un pied, fermé par un couvercle. Ce cylindre peut être déplacé, montré de tous les côtés, il n'y a aucun doute : celui-ci est hermétiquement fermé.
Alors le magicien ouvre le couvercle et est soudainement éblouit par de
grandes flammes jaillissant de l'intérieur
du cylindre !
Le magicien surpris s'empresse de le refermer, puis il donne alors un petit coup de baguette magique afin de pouvoir ouvrir le cylindre sans danger. Lorsqu'il rouvre celui-ci, il
fait apparaître à l'intérieur
du cylindre, deux colombes, puis deux lapins puis des fleurs, ect…
Tour très visuel et impressionnant
Peut être utiliser pour faire apparaître ce dont vous désirez
Qualité Tora
S'utilise avec de l'essence à briquet ou de l'eau écarlate

Dimensions :
…x …

Return to the catalogue


We advise you with this product :
1.
Vanishing dove cage (New model)
935 €