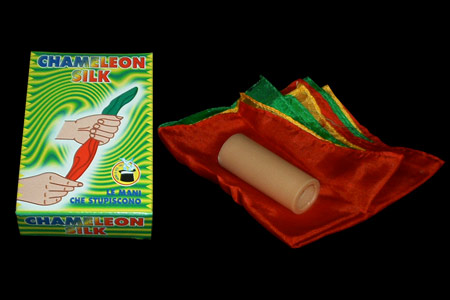 Description
Le manicolor est un
outil indispensable
pour un magicien. Il permet de réaliser de
nombreux effets
: des charges et des changes de foulards, balles mousse ou autre…
Commencez par montrer vos mains vides et dites que vous êtes capable de
changer la couleur d'un foulard lorsque vous le mettez dans votre main
.
Prenez alors un
foulard rouge et placez-le dans votre poing
. Lorsque le foulard va ressortir de votre main, le public restera sans doute bouche bée.
Le foulard est maintenant vert
. Vous le passez de nouveau au creux de votre poing et celui-ci devient jaune ! En un dernier passage et il redevient rouge.
Le foulard peut être
donné à l'examen.
Tube Manicolor 5,5 cm de long + 3 Foulards colorés
Très simple à utiliser
Foulards rouge, vert et jaune 20 x 20 cm
Le tube Manicolor peut être utilisé pour d'autres applications

Return to the catalogue


We advise you with this product :
1.
Checkerboard silk
14.5 €