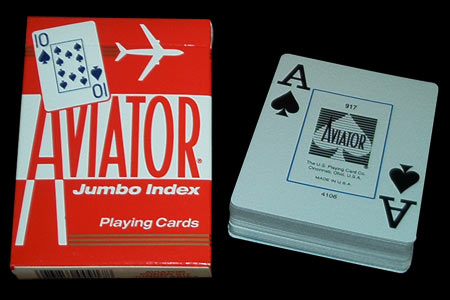 Description
Le jeu Aviator, aussi fabriqué par la grande firme Américaine "The US Playing Card CO." est utilisé par un grand nombre de manipulateurs prônant la
souplesse et la finesse des cartes
. Celui-ci possède l'avantage d'avoir les
index bien plus grands
que la normale.
Ces cartes d'une
qualité irréprochable
sont légèrement plus souples et plus fines que les Bicycle. Par conséquent, elles sont très pratiques dans les
manipulations
d'apparition et de disparition de cartes.
Idéales pour le
close up
car les index seront bien
plus visibles
que les cartes classiques, puis ces cartes s'avèrent aussi très pratiques pour les personnes âgées ou malvoyantes...
Cartes de qualité professionnelle
Souples et fines
Indexes très visibles
2 Couleurs disponibles : Bleu et Rouge
Format poker (63 x 88 mm)

Return to the catalogue


We advise you with this product :
1.
FAN2C
28 €