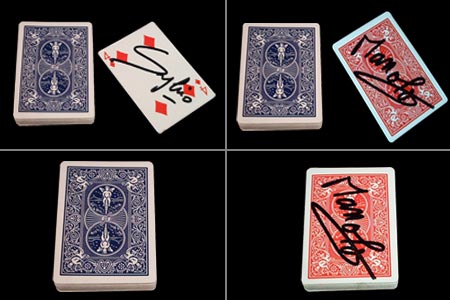 Description
Cet effet extraordinaire va
clôturer votre routine de carte ambitieuse en beauté.
Imaginez que vous avez fini votre routine habituelle avec une carte rouge que vous avez fait signer sur la face à un spectateur, vous décidez alors de lui en faire cadeau comme souvenir en signant ou mettant vos coordonnées sur le tarot. Le spectateur a la carte dans les mains.
Vous lui demandez quand même si il souhaiterait voir quelque chose d'encore plus extraordinaire que vous ne faites que très rarement. Vous prenez alors un paquet bleu, vous lui reprenez sa carte signée des deux côtés, puis vous enfoncez la carte rouge en plein milieu du jeu bleu.
D'un coup, à vue d'œil,
la première carte devient instantanément rouge et signée
. Vous la retournez, la signature du spectateur y est aussi. Si vous éventaillez le jeu il est clairement entièrement bleu. Donnez-lui la carte en souvenir. Le spectateur n'en reviendra pas !
Un final formidable pour votre routine de carte ambitieuse
Tarot Bicycle classique
Le spectateur a la carte dans les mains avant et après le tour
La manipulation n'est pas difficile
Vous trouverez d'autres applications à ce gimmick si astucieux

Return to the catalogue


We advise you with this product :
1.
Modern Times (henry Evans)
28.5 €

2.
3D Advertising (Henry Evans)
27.5 €

3.
Reset Card (DVD + Gimmick)
28 €