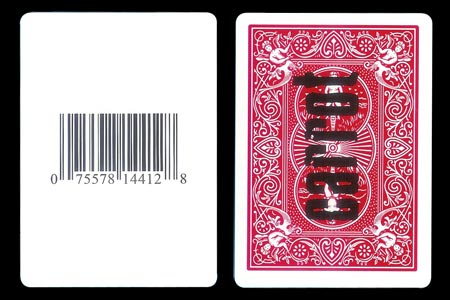 Description
Avec cette carte, on peut créer une routine pour des anglophones ou venant d'un personnage qui se dit Anglais. Inventez une routine en rapport avec la
consommation
et le monde
capitaliste
.
Cette carte spéciale comporte un code barre sur sa face et une inscription « carrot » sur son tarot.
Vous pouvez par exemple forcer un légume à votre spectateur, une carotte dans ce cas, avec un
choix équivoque
ou d'autres méthodes, puis vous montrez le code barre qui était déjà sur la table et au dos est écrit le nom du légume choisit par le spectateur.
Avec les cartes Gaff, c'est à vous de
réfléchir à vos propres effets
et de créer des routines originales.
Amusez-vous et soyez créatifs…
Carte qualité Bicycle
Format poker
Tarot rouge

Return to the catalogue


We advise you with this product :
1.
BICYCLE Deck
3 €

2.
Bicycle Gaff Deck (Tiger)
35 €

3.
Bicycle Gaff Deck (Ghost)
30 €