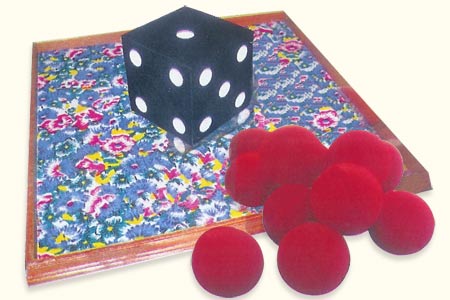 Description
Le magicien présente un
dé géant
qu'il tient dans sa main, son discours porte sur le hasard, mais lorsqu'il jette le dé à l'intérieur du plateau qui se trouve devant lui, le dé s'est volatilisé comme par magie laissant place à une multitude de balles rouges.

Comme quoi le hasard est vraiment imprévisible !!!
Le dé peut se transformer également en différents objets comme par exemple un paquet de cartes…
Une autre routine intéressante à réaliser est de laisser place à un jeu de cartes après avoir jeté le dé à l'intérieur du plateau, puis prendre le jeu en main, le sortir de l'étui, retourner le plateau car de l'autre côté se trouve un tapis idéal pour la manipulation de cartes, puis étaler les cartes sur le tapis pour commencer un tour de cartes.
Cette transformation est très flash bien qu'il soit nécessaire de camoufler un angle pendant un bref instant. Vous pourrez également utiliser un foulard pour transformer le dé en un objet quelconque…
L'effet est incroyablement bon et peut être illustré d'une présentation très originale et cohérente.
Très bon effet
Facile à réaliser
Nécessité de cacher un angle un court instant
Apparition de n'importe quel petit objet
Plateau à double usage : plateau de dé, et tapis de cartes
Balles en mousse non fournies
Vous recevrez plateau + dé truqué géant

Return to the catalogue


We advise you with this product :
1.
Die Box
115 €