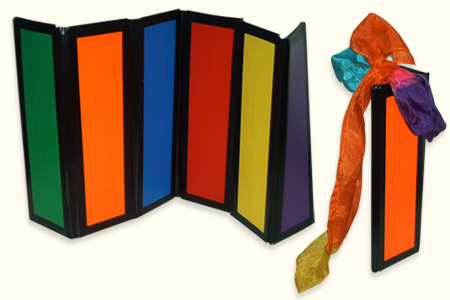 Description
Voici de la magie très
colorée et visuelle
qui va faire rêver petits et grands…
Le magicien présente une sorte de paravent multicolore qu'il déplie intégralement. Il le montre clairement des deux côtés puis le replie de façon à former un triangle. D'un petit coup de baguette magique, le magicien va
faire apparaître de l'intérieur du paravent, une multitude de foulards encore plus colorés
, des balles en mousse…
De la magie très visuelle et
très facile à réaliser
pour débutants comme pour professionnels.
Vous pourrez charger votre paravent « Flip Flap » de tout ce dont vous désirez, il est même possible d'y charger une colombe.
Magie visuelle
Très facile à faire
Possibilité de charger des choses très différentes
Dimensions : 25 cm de hauteur, cotés du triangle : 7cm.

Return to the catalogue


We advise you with this product :
1.
Production Silks
34.5 €