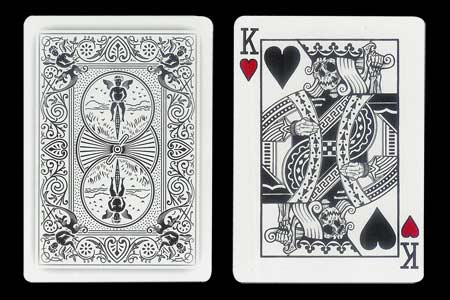 Description
Voici, dans la version Ghost, une carte Gaff des plus
terrifiante
car ce roi de coeur est en
décomposition
. Son visage à pourri laissant place à son
crâne
.
Créez vos propres routines
originales et uniques
avec ces cartes gaff que peu de magiciens connaissent.
Avec ce roi mort vous allez pouvoir instaurer une
ambiance morbide
à votre magie.
N'hésitez pas à user de votre
créativité
car vous pouvez tout aussi bien utiliser ce roi mort en
gag comique
dans une de vos routines. Ce qui est sûr c'est que vous allez bien vous amuser en collectionnant ces cartes gaff car elles vous
ouvrent d'innombrables portes
…

Return to the catalogue


We advise you with this product :
1.
BICYCLE Ghost Deck
10 €

2.
Bicycle Gaff Deck (Tiger)
35 €

3.
Bicycle Gaff Deck (Ghost)
30 €