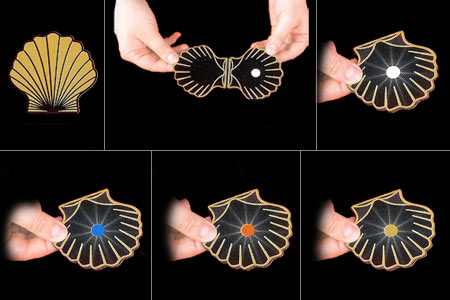 Description
Le magicien présente un
coquillage doré
aux spectateurs. On peut voir à l'intérieur une
perle blanche
. Le magicien frotte la perle du bout des doigts et la perle devient de
couleur bleue
!
Un nouveau frottement et elle
devient rouge
.
Un frottement final et la perle est
devenue toute dorée
comme le coquillage.
A la fin du tour, le coquillage
peut être remis à l'examen
et chacun peut essayer de frotter la perle, elle reste dorée.
Tour très facile à faire
Bel objet intriguant
Idéal pour le close up comme pour le salon
A accompagner d'un joli boniment
L'objet peut être donné à l'examen
Aucun système électronique n'est utilisé

Return to the catalogue


We advise you with this product :
1.
Mentalisme en couleur
28.5 €