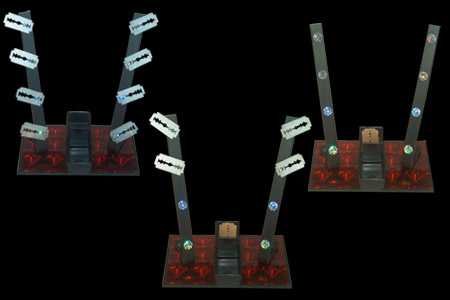 Description
Voici un
effet spectaculaire
à faire frémir vos spectateurs !
Le magicien a devant lui
huit lames de rasoir
exposées sur deux barrettes. Il prend les lames une par une et vérifie l'
affûtage très acéré
de chacune d'elles en tranchant des cartes ou des feuilles de papier.
Ensuite le magicien prend les huit lames et les met dans la bouche en prenant soin de bien les
mastiquer
. Tout en mastiquant, il prend une bobine de
fil
et en dégage une bonne longueur qu'il décide aussi de manger.
Afin de bien avaler le tout, il boit un grand verre d'eau. Enfin, l'estomac apparemment bien calé, il porte à la bouche le pouce et l'index et attrape l'extrémité du fil et… par des contractions d'estomac, il
régurgite toutes les lames
qui sont maintenant attachées au fil.
Ce gimmick va vous permettre d'effectuer un tour des plus visuels
Tout le matériel est fourni, y compris les instructions en français
Facile à réaliser
Présentation à travailler
Très gros effet pour le public
Idéal sur scène comme en salon
Vente interdite aux mineurs

Return to the catalogue


We advise you with this product :
1.
Razorwire
20 €

2.
Bloody Razor
1.5 €