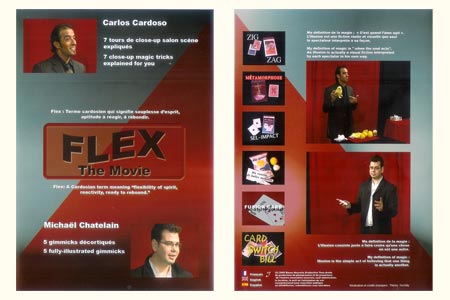 Description
Flex :
terme cardosien qui signifie souplesse de l'esprit, aptitude à réagir, à rebondir…
Selon Cardoso « la magie c'est quand l'âme agit. L'illusion est une fiction réelle et visuelle que seul le spectateur interprète à sa façon ».
Selon Chatelain « l'illusion consiste juste à faire croire qu'une chose en est une autre. »
Ce DVD, est l'enregistrement d'une conférence pendant laquelle Mickael Chatelain et Cardoso ont présenté plusieurs de leurs routines.
Carlos Cardoso
y explique
7 tours
de close-up salon scène et
Chatelain fait la démonstration puis explique en détails 5 de ses gimmicks
.
Mickael Chatelain :
Zig-zag
Bill flash card
Mental parano
Self impact
Metamorphose
Carlos Cardoso :
Elé-gants
Fusion card
Rose flash
Colour monte
Carte pensée
Card switch bill
Langue :
français –
Durée :
1h30 environ.

Return to the catalogue






You can find this magic item in :
1.
Coffret Wanted
75 €

We advise you with this product :
1.
Métamorphose (M. Chatelain)
25 €

3.
DVD Exit (Mickael Chatelain)
29 €