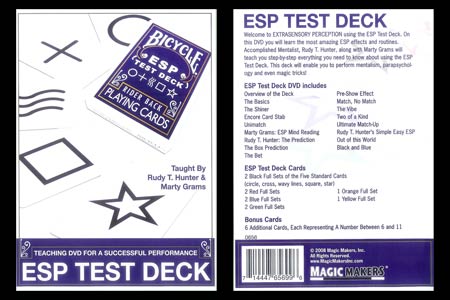 Description
Voici enfin un jeu bicycle très complet fait pour des effets de
pur mentalisme
.
Un jeu qui mélange symboles
ESP et couleurs
diverses pour effectuer de nombreuses routines de
prédictions
bluffantes et de
lectures dans les esprits
surprenantes, expliquées dans le moindre détail sur le DVD par Rudy T. Hunter et Marty Grams.
Si vous aimez le mentalisme, ce jeu a du vous manquer auparavant. Fini les dessins sur des cartes blanches : vous avez enfin un jeu de
cartes ESP de qualité
pour professionnels. Le DVD vous explique le fonctionnement de ce jeu, et
16 routines
excellentes.
Le jeu se compose de 2 groupes de cartes ESP Noires (1 groupe = 5 cartes qui sont : Rond, Croix, Carré, Vagues, étoile), 2 groupes de cartes Rouges, 2 groupes de Bleus, 2 groupes de vert, 1 groupe d'orange, 1 groupe de jaune. En plus, vous trouverez 6 cartes spéciales avec d'autres symboles.
Jeu de 56 cartes ESP, 6 couleurs
DVD d'apprentissage en anglais
Fonctionnement du jeu expliqué
16 routines incroyables dévoilées
Cartes Bicycle au format poker

Return to the catalogue


We advise you with this product :
1.
DVD Pur Mental (Vol.1)
32 €