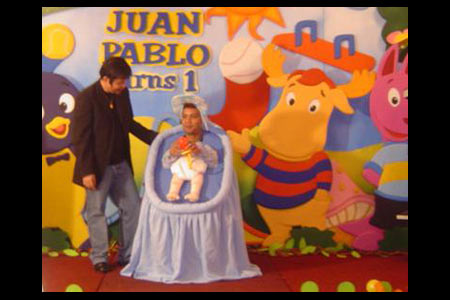 Description
Ne pleurez plus, vous allez très bientôt introduire un gros bébé à votre numéro ! Vous allez provoquer des
crises de rire chez votre public
grâce à ce gros bébé allongé sur son lit dont la drôle de tête sera la votre.
Grâce à ce chef d'œuvre magnifique, qualité Axtell, vous allez pouvoir expliquer comment la passion pour la magie vous est venue dès votre plus tendre enfance d'une façon très comique.
Vous pourrez également faire monter un spectateur sur la scène et lui demander de s'occuper du gros bébé qui bien sûr va être odieux tout le long du numéro.
Faites jouer votre imagination pour animer cette
poupée bidonnante.


Effet hilarant
Corps du bébé dans son berceau de très bonne qualité
Bras et jambes que vous animerez grâce à des baguettes
Livré avec DVD en anglais expliquant le fonctionnement et des routines
Livré également avec bonnet de bébé
En cadeau, une housse de transport offert par Magicaplanet
Disponible en couleur bleue, rose ou jaune.

Return to the catalogue


We advise you with this product :
1.
Comment devenir ventriloque
35 €

3.
DVD Ventriloque Academy
35 €