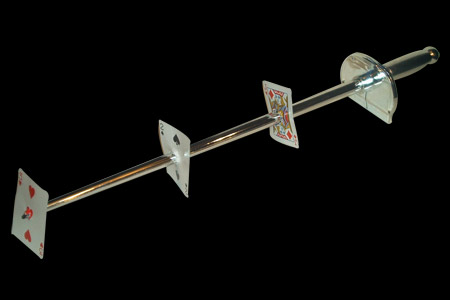 Description
Ajoutez de l'originalité à vos présentations avec cette incroyable épée avec laquelle
vous retrouverez jusqu'à trois cartes
choisies par des spectateurs.
L'effet est
extrêmement visuel
: Le magicien fait choisir une, deux ou trois cartes à ses spectateurs (selon la situation, l'histoire, et son niveau en manipulation), il mélange le jeu de cartes et le fait même mélanger à différents spectateurs. Pendant que les spectateurs mélangent, le magicien présente son épée et joue avec.
Ensuite, il reprend le jeu en main, et c'est alors qu'il jette toutes les cartes en l'air et
charge avec l'épée dans les cartes en plein vol…
Toutes les cartes retombent excepté une, deux, ou trois d'entre elles qui
sont restées plantées sur la pointe
de l'épée. Enfin, la (ou les) cartes sont retirées de l'épée et rendues aux spectateurs, elles possèdent toutes un trou en leur centre.
Ce tour est vraiment génial ! Vous allez pouvoir le présenter de façon très rigolote et originale. Pour un effet encore plus fort, vous pouvez combiner cette épée avec une fontaine de cartes qui lancera les cartes à votre place.
Tour très original et impressionnant à la fois
Facile à réaliser
Longeur de l'épée : 65cm
L'épée est démontable en deux parties afin de faciliter son transport
Epée en plastique de couleur métallique, moins chère qu'une épée en métal, mais sur scène l'impact sur votre public sera strictement identique.

Return to the catalogue


We advise you with this product :
1.
Tie pin juan
36 €

2.
Card Fountain X (Remote)
113 €