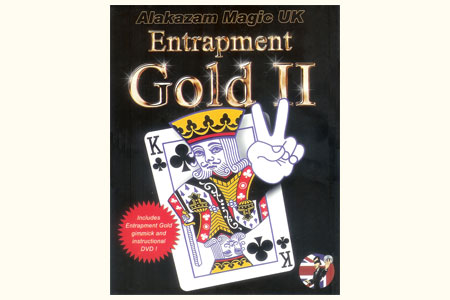 Description
Voici une routine géniale qui se décompose en deux parties,
deux effets de plus en plus forts.
Elle a été crée par les associés Peter Nardi, Mozique et Rob Bromley.
Première partie :
Le magicien présente deux Rois et les dépose sur la table, face visible. Il fait choisir une carte librement à un spectateur, la fait signer, et la place entre les deux rois.
En claquant des doigts, la carte choisie disparaît d'entre les rois, c'est-à-dire que vous n'avez plus que les deux rois dans vos mains. Par contre la carte signée se retrouve en plein milieu du jeu, à l'envers par rapport au reste du jeu ! Le spectateur peut l'extraire lui-même, il restera bouche bée !

Deuxième partie :

Le magicien présente de nouveau les deux Rois faces en l'air sur la table. Il perd la carte signée au milieu du jeu, puis mélange et coupe. Ensuite il entoure les deux rois d'un élastique, et les pose simplement sur le dessus du paquet. Après avoir de nouveau claqué des doigts, il reprend les rois, retire l'élastique, et entre ces deux, se trouve une carte à l'envers, qu'il tend vers le spectateur…
C'est bien la carte signée ! L'effet est splendide !
Tour idéal pour finir une routine de carte ambitieuse en beauté
Facile à faire
Gimmick très ingénieux de qualité bicycle
DVD en anglais très bien expliqué (pas besoin de comprendre parfaitement l'anglais)
Nécessite un jeu bicycle poker à tarot bleu (non fourni)

Return to the catalogue


We advise you with this product :
1.
BICYCLE Deck
3 €

2.
DVD Bandwich
20 €