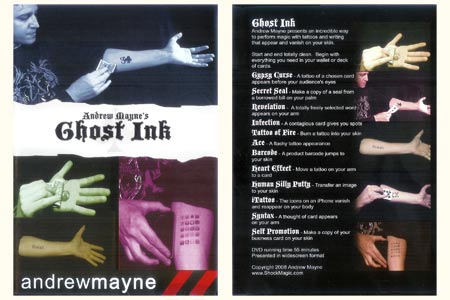 Description
Dans ce DVD, Andrew Mayne vous présente une
méthode splendide, très visuelle, pour faire apparaître ou disparaître des tatouages sur votre peau. C'est hyper bluffant !


Ce qui est génial c'est que vous pouvez créer vos propres tatouages, car toute la méthode de fabrication est très bien expliquée. Une série de tatouages est fournie en fichier pds dans le DVD, comme des indices de cartes, des cartes entières, des symboles, et autres dessins nécessaires aux routines qui sont expliquées.
Le magicien demande à un spectateur de choisir une carte, puis la perd à l'intérieur du jeu. Après avoir mélangé, il remonte ses manches et montre la peau de son bras totalement clean.
Simplement en frottant son paquet sur sa peau, la carte choisie apparaît tatouée sur son bras. L'effet est épatant !
Tour d'une grande originalité
Facile à réaliser
Un dossier de fichiers pdf d'images pour tatouages est inclus
Dvd en Anglais (55 min environ)
Explications pour 12 routines + méthode de fabrication du gimmick + comment se fabriquer le chargeur
Vous devrez vous procurer le matériel nécessaire pour fabriquer ce tour (celui-ci se vend en grande surface).
Description des routines :

- Gypsy Curse :
Une carte choisie par un spectateur s'imprime sur votre bras.
- Secret Seal :
Un logo sur un billet de banque apparaît tatoué dans la paume de votre main.
- Revelation :
Un mot librement choisi apparaît en tatouage sur votre bras.
- Infection :
Une carte va en contaminer une autre, puis va s'imprimer sur votre bras.
- Ace :
Une apparition de tatouage très rapide.
- Barcode :
Un code barre situé sur un produit saute sur votre peau.
- Heart Effect :
Faites disparaître cette fois le tatoo qui se trouve sur votre bras pour qu'il apparaisse sur votre carte.
- Human Silly Putty :
Imprimez une image sur votre peau.
- iTattoo :
Les logos de l'écran de votre I Phone disparaissent et refont leur apparition tatoués sur votre corps.
- Syntax :
Un mot pensé par un spectateur apparaît comme par magie sur votre bras.
- Self Promotion :
Faites une copie de votre carte de visite directement sur votre peau.

Return to the catalogue




We advise you with this product :
1.
Auto deck final vision
15 €

2.
Brainwave Deck
12 €