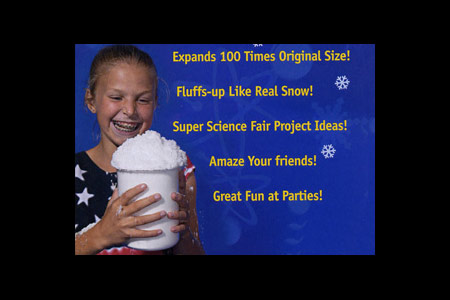 Description
Incroyable, le magicien est capable de transformer de l'eau en neige en quelques secondes !
Il tient un verre dans ses mains, y verse de l'eau et à vue d'œil, une neige blanche va gonfler et déborder du verre. Cette neige peut être touchée par le public qui n'en reviendra pas de se qu'il vient de voir !
Poudre qui gonfle jusqu'à atteindre 100 fois son volume d'origine
Ressemble à de la vraie neige
Est fraîche au toucher
Pas toxique
Notice avec idée de routine
Fiole de 10 grammes de poudre
Idées d'application :
Faites réagir votre poudre sur une coupelle et placez un ventilateur juste à côté afin que la neige qui déborde de la coupelle s'envole. Vous pouvez, grâce à un plat magique (dove pan), transformer une colombe en neige blanche.

Return to the catalogue


We advise you with this product :
1.
Insta-snow (100g)
19.5 €