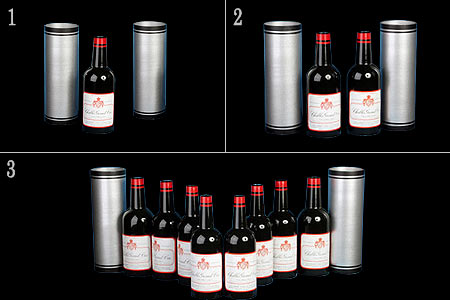 Description
Des grands classiques
remis au goût du jour par
Tora
.
Présentez-les en enchaînement ou isolés, le succès sera toujours garanti.
Voici quelques exemples de routines.
La multiplication de bouteilles :
sur une table face à vous, deux tubes. Soulevez celui de droite, une bouteille s'y cache. Soulevez celui de gauche, rien. Vous reposez les tubes. Soulevez-les de nouveau, la bouteille se retrouve à gauche et le tube de droite est vide ! Ce passe-passe pourra être répété plusieurs fois mais les choses s'emballent, il y a maintenant une bouteille sous chaque tube.
Otez une des deux bouteilles afin de reprendre votre passe-passe. Mais malheureusement les bouteilles ne cessent d'apparaître comme par enchantement dès que le tube est posé !
Vous pourrez obtenir jusqu'à 8 bouteilles.
Le passe-passe bouteille :
deux tubes vides. Un verre de vin et une bouteille. Recouvrez-les par les tubes, soulevez les tubes…ils ont interverti leur place.
Vous pouvez renouveler l'opération plusieurs fois.
La chasse aux foulards :
Deux foulards sont noués autour du col des bouteilles, un vert à gauche et un blanc à droite et vont changer de place à plusieurs reprises. Puis se sera au tour de deux foulards verts et deux blancs d'entrer en jeu jusqu'à ce qu'ils disparaissent complètement.
Dimensions des tubes :
Hauteur : Diamètre : Dimension des bouteilles :
Hauteur :
28 cm
Diamètre :
9,5 cm.

Return to the catalogue


We advise you with this product :
1.
silk 12''
4 €

2.
Brandy glass
9 €