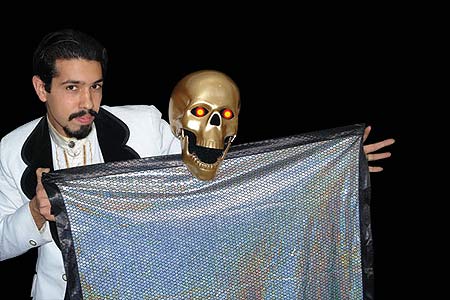 Description
Pourquoi ne pas adopter cet étrange compagnon lors de vos spectacles. Plutôt non conventionnel, il surprendra et effrayera sans doute vos spectateurs.
Vous pourrez
le manipuler à votre guise
, le faire
se déplacer sur un morceau de tissu
, également
le faire parler
et bien plus étonnant encore,
ses yeux pourront s'allumer et s'éteindre quand vous le désirerez.

Le déplacement :
peut être effectué sur le haut du tissu, sur le côté du tissu mais il peut également disparaître derrière le tissu.
La parole :
vous pourrez activer la bouche de votre compagnon de scène comme s'il s'exprimait.
Les yeux :
pour un effet encore plus effrayant, amusez-vous à les allumer et à les éteindre, comme si votre compagnon était tout à coup prit d'une colère noire.
Le tout est fourni dans une
splendide boîte en bois et plexiglas transparent d'où le crâne pourra s'envoler !
Très belle fabrication de Tora.
Pas besoin de piles ! Fonctionne avec un accumulateur fourni qui se charge grâce au transformateur fourni également.
Dimension de la boîte :
Longueur :
28 cm.
Largeur
: 21,5 cm.
Hauteur :
20 cm.

Return to the catalogue


We advise you with this product :
1.
DVD The Secrets of the Zombie Ball
22.5 €

2.
Foulard zombie galaxie
14.5 €

3.
Zombie Ball Silver (Vernet)
40 €