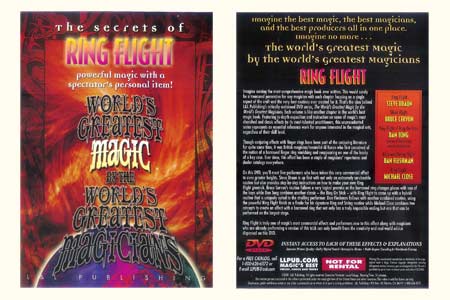 Description
Si vous ne deviez posséder qu'une seule collection de DVD sur la magie ce serait celle-ci !
Cette collection de référence reprend
les meilleurs effets et routines de la magie.
C'est un fabuleux recueil dans lequel de nombreux maîtres magiciens vous apprennent leurs mouvements et routines pour quelques classiques de la magie.
Anneaux chinois, balles éponges, torsion du métal, balles et gobelets, faux pouces, zombie, canifs caméléons et de très nombreux autres sujets sont tous abordés dans cette impressionnante collection de DVD de référence.
Chaque volume couvre un sujet spécifique et vous proposes quelques morceaux modernes, anciens et d'anthologie des meilleures vidéos de la magie.
Bien que créant des effets pour le moins étrange, les
bagues
ont toujours fait partie de la littérature magique, c'est donc le magicien et mentaliste Al Koran qui a le premier utilisé une bague empruntée pour la faire disparaître puis réapparaître accroché à un porte-clés.
Dès lors, cet effet a été
employé par de nombreux magiciens
et se trouve chez tous les vendeurs.
Dans ce DVD, vous retrouverez
5 magiciens
qui utilisent cet effet très connu et réalisent des tours de plus en plus étonnants.
Steve Draun est le premier à nous présenter une routine ainsi qu'à nous apporter les instructions pas à pas pour fabriquer soi-même le gimmick pour la bague.
Vient ensuite Bruce Cervon grâce auquel une bague empruntée échange sa place avec une clef tandis que Dan Tong combine un classique, le Ring on Stick avec le Ring Flight et revient avec une routine hybride…
AU SOMMAIRE :Steve Draun :
Ring Flight
Bruce Cervon :
Silent Flight
Dan Tong :
Ring Flight/Ring on Stick
Dan Fleshman :
Ring and String Flight
Michael Close :
Ring Fright
Langue :
anglais –
Durée :
51 minutes.

Return to the catalogue






We advise you with this product :
1.
Flying Ring (G. Bloom)
36 €
2.
Any ring
26.5 €
3.
Interlace (R. Sanders)
79.5 €