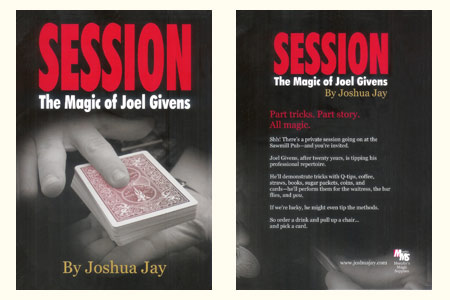 Description
Chhut ! Une représentation privée a lieu au Sawmill Pub et vous y êtes invité.
Joel Givens
, après 20 ans, livre son répertoire magique.
Il réalisera des tours avec du
café, des livres, des paquets de sucre, une paille, des pièces
et bien évidemment des
cartes
qu'il effectuera pour un tas de gens et pour vous bien sûr !
Avec un peu de chance, il révèlera même ses méthodes.
Alors, commandez un verre, asseyez-vous…et choisissez une carte…
AU SOMMAIRE :
Sweet Straw
Peek
Cup'o Joel
Laser Aces
Sidejogged Hop
Silly Psychic
Matches All Gone
Kicking Ace
Sponge Aces
Givens on Hofzinser
Brain Cleaner
Identification Cards
Minor Revelations
Spread Production
Ninja Coin
Across Coin
Dave's Proposition
Tubular Bills
More Memory Man
Heckler Stopper
Monte 101
It's a Tie
The Magidoodle
Easy Time
The Human Slot Machine
Slop Machine
Hungry Cannibals
Collectors for Collectors
Backstage Pass
Rubbed Away
Hover
Whitewashed
Lean Time
Bottom Deal Crimp
Uncrossed Cross Cut
New Way Pop
EZ Color Change
EZ Color Aces
Quadruple Open Prediction
Langue :
anglais –
270 pages illustrées
.

Return to the catalogue
This item is no longer
sold on Magicaplanet