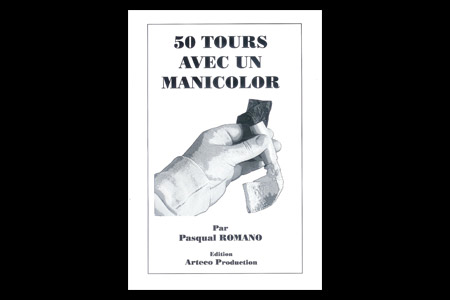 Description
Gimmick peu connu par les magiciens, le
manicolor
mérite pourtant les honneurs.
D'un
emploi très simple
et au
potentiel étonnant
, il remplacera votre FP qui est malheureusement de plus en plus connu du public.
Voilà pourquoi Pasqual Romano, après avoir crée un DVD sur le manicolor, a décidé d'en faire un livre.
« Je vous le recommande pour vos spectacles, il remplacera j'en suis certain le faux pouce dans certains tours, car celui-ci commence à être trop connu du grand public (hélas) ». Pasqual Romano.
AU SOMMAIRE :
Le manicolor
Surprenant
Boule Oh !
Blendo
Ruban
Allumée
Pan Pan Pan
Souffle
Présentation
C'est la fin
Anniversaire
Supercolor
Mauvais
Le clown
Disparition
Dedans
Sel
Mousse
La goutte
La bague
Plusieurs
A la suite
Retour
Comme moi
Comme moi 2
Prénom
ESP
Carnaval
Apparition
Dans l'air
De la main
Diminue
Au suivant
Coloriage
En couleur
Quel cri !
Forçage
Plus rigolo
Cordelette
Ballon
Au milieu
Au feu
Vos papiers
Grandiose
Union
Ensemble
Pas normal
Absurde
A la carte
Le chat
Lavage
Coupez
Langue :
français –
44 pages illustrées
.

Return to the catalogue




We advise you with this product :
1.
Manicolor Dye Tube (Vernet)
13.5 €