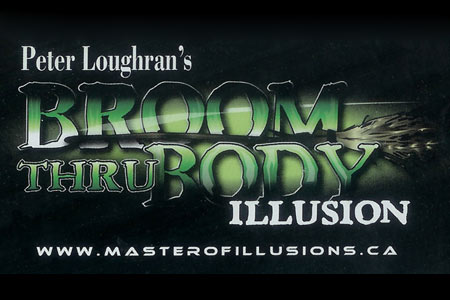 Description
Il aurait pu choisir de nombreux autres objets, comme une batte de hockey mais c'est un
balai
qu'il a décidé d'utiliser. Et ce pour plusieurs raisons, tout d'abord sa banalité, il est reconnaissable par tous.
Vous pourrez alors
l'employer à de diverses occasions
, pendant les fêtes d'Halloween ou en racontant une histoire de sorcières…
Avec la popularité d'Harry Potter, le balai accompagnera à merveille une routine lors d'un anniversaire ou d'un spectacle pour enfants.
Mais vous pourrez aussi l'utiliser dans tous autres lieux, restaurants, hôtels, dans la rue…n'importe quel endroit ou une équipe de nettoyage doit agir.
Et bien évidemment sur
scène
, après avoir utilisé des confettis, hop un petit coup de balai…et voilà l'objet introduit !
L'effet :
Placez le
balai derrière votre dos
, retournez-vous pour bien montrer vos deux mains, les deux extrémités du balai restent visibles tout au long de l'effet. Peu à peu le balai va
s'introduire dans votre corps et le transpercer
. Vous pouvez vous retourner pour montrer qu'une partie du balai est bien dans votre corps.
Vous pourrez même faire
bouger le balai dans votre corps
vers le haut, le bas, vers la gauche puis la droite.... Montrez-vous sous tous les angles,
l'illusion est vraiment parfaite
.
D'autres applications
sont également
possible
avec le balai, regardez la vidéo pour en avoir les démonstrations.
Pas de vêtements spéciaux.
Pas d'éclairage particulier.
Très visuel.
Pas de harnais.
Prêt à l'emploi.
Longueur du balai : 90 cm.

Return to the catalogue


We advise you with this product :
1.
Candle Thru Arm
42 €