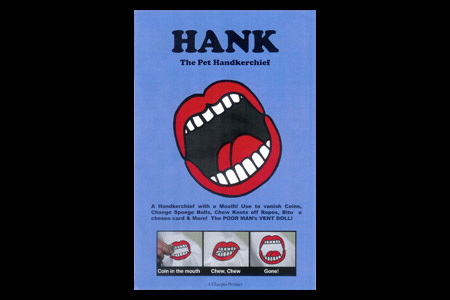 Description
Hank
, qui est à
nouveau disponible
va vous offrir une
multitude d'idées de routines
.
Il s'agit d'un
foulard blanc avec une grande bouche dessinée
dessus qui fait des choses assez surprenante !
Voici quelques routines possibles à réaliser avec Hank :
Avec des pièces :
Utilisez Hank pour faire
apparaître ou disparaître des pièces
. Vous pourrez aussi l'utiliser dans vos tours favoris comme le Scotch & Soda, Hopping Half, Locking $2,85, Two Copper One Silver, Expended Shell Coins…Au lieu de faire apparaître ou disparaître la pièce de façon ordinaire dans votre main, faites le dans la bouche de Hank.
Avec des cartes :
Faites choisir une carte à un spectateur qui est ensuite perdu dans le paquet entier. Le paquet est donné à Hank. Lorsque vous récupèrerez le paquet, la malheureuse
carte choisie
aura été…
croquée
(il manque un bout de carte).
Avec des balles éponges :
Utilisez Hank lors de vos routines de balles éponges. Il fera
apparaître ou disparaître des balles, les multipliera, modifiera leur forme…
Vous pourrez également utiliser Hank avec un
FP
ou
produire un mouth coil
dans la bouche de Hank au lieu de la votre…
Hank peut même être utilisé en tant que
poupée de ventriloque ! Les possibilités seront limitées seulement par votre imagination !

Matériel fourni :
Foulard de 39 x 39 cm blanc.

2 cartes croquées Bicycle à dos rouge et dos bleu.

Return to the catalogue


We advise you with this product :
1.
Ace of Spades Silk 24''
16 €

2.
Silk handkerchief (18
6 €