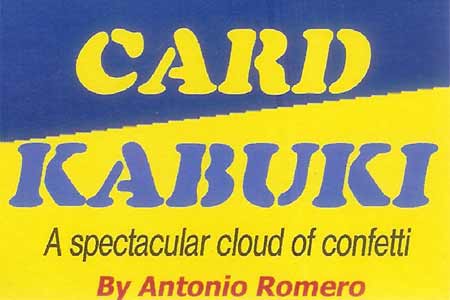 Description
Ce gimmick très performant va vous permettre de créer
une série d'effets splendides.
Commencez tout d'abord par faire
disparaître un foulard (ou autres petits objets) de manière très propre
.
Puis après avoir fait choisir une carte de votre jeu (ou avoir emprunté un billet à un spectateur), vous pliez celle-ci en forme de cylindre et vous empruntez un briquet pour passer la flamme sous cette carte (ou billet).
D'un coup une détonation bruyante se produit, on voit une flamme surgir de l'autre côté du cylindre, et le foulard est projeté dans les airs accompagné qu'une multitude de confettis qui retombent lentement autour de vous.
Lorsque vous déroulez la carte ou le billet du spectateur, il n'y a rien à l'intérieur…
Très belle disparition et puissante réapparition
Tour très visuel
Idéal pour attirer l'attention de futurs spectateurs
Aucun dégagement de chaleur vers le bas
Nécessite du coton et/ou du papier flash (non fourni)
Prévoyez également de la neige japonaise ou des confettis
Conseil :
Cet effet est idéal en situation de cocktail ou en street magic, ou dans n'importe quelle situation où vous souhaitez attirer l'attention de toutes les personnes présentes.
En effet, lorsque vous faites ce tour à un petit groupe de personnes, la détonation va se produire, projetant votre foulard ainsi qu'une multitude de confettis (Neige japonaise)dans les airs, et produisant un effet sonore important qui va faire que les personnes autour vont se retourner par curiosité. Ce qui est génial c'est qu'à ce moment là, vous serez en train de saluer votre petit groupe de spectateurs qui seront en train de vous applaudir, et une belle pluie de confettis sera en train de retomber sur vous.
C'est très joli du point de vue visuel et les personnes autour viendront voir ce qui se passe, donc vous pourrez ainsi enchaîner avec votre routine préférée.

Return to the catalogue


We advise you with this product :
1.
White Snowstorm
10 €

2.
Flash cotton
14.5 €