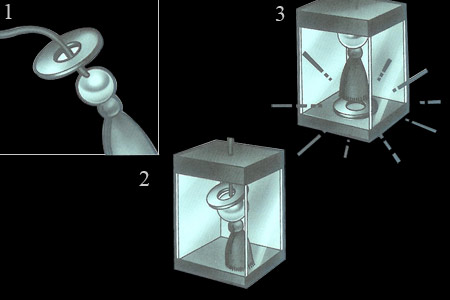 Description
Un petit tour amusant très simple à réaliser.
Vous possédez une
boîte transparente
, une
cordelette rouge
se terminant par une
perle nacrée et un pompon, et une rondelle métallique
.
Enfilez la rondelle dans la cordelette
. Automatiquement celle-ci se retrouve
bloquée par la perle et le pompon
.
C'est alors que vous passez la ficelle au travers du trou se trouvant sur le couvercle de la boîte. Replacez le couvercle sur la boîte, par conséquent la
rondelle, la perle et le pompon sont enfermés dans la boîte,
le reste de la ficelle dépasse à l'extérieur.
Enroulez alors la ficelle autour de la boîte et maintenez-la avec vos doigts. Puis
tapez la boîte dans votre main, le miracle se produit alors !
La
rondelle s'est libérée toute seule
alors que la ficelle est encore maintenue fortement.
Vous pouvez ouvrir la boîte et montrez le tout au public.
Très simple à réaliser, aucune manipulation.
Taille de la boîte : 6 x 4 x 4 cm.

Return to the catalogue


We advise you with this product :
1.
Burglar- ball
6 €