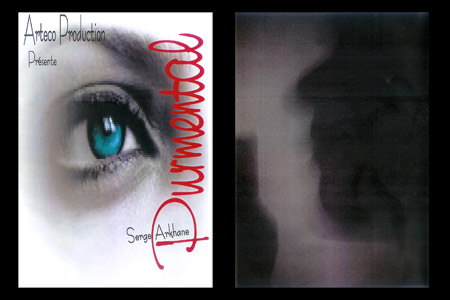 Description
Serge Arkhan
offre ici
8 effets de « mentalisme pur »
extraits de son répertoire professionnel personnel.
En live
, vous apprécierez l'impact de chaque routine sur le public composé principalement de magiciens professionnels ou amateurs, les effets sont purs, nets et tranchants !
AU SOMMAIRE :
Effet n°1 : Reproduction de dessin
Le mentaliste demande à un spectateur de PENSER, SIMPLEMENT PENSER à un dessin simple.
Alors que ce dessin n'est encore que dans l'esprit du spectateur, le mentaliste dessine quelque chose et confie ce dessin à un autre spectateur (ou le pose sur la table). Le mentaliste ne touchera plus jamais son dessin (Pas de nail writer)
Donc le mentaliste dessine AVANT LE SPECTATEUR . Le spectateur est enfin invité à dessiner lui-même sa pensée, en étant vigilant de ne pas le montrer à personne.
Le mentaliste révèle SON dessin en premier.
Le spectateur révèle ensuite le sien ..... IDENTIQUES !!!
Points forts :
Pas d'électronique.

Pas de complice ni de nail trailer.

Le mentaliste dessine vraiment avant le spectateur et montre son dessin avant.

Effet n°2 : L'heure de naissance

Le mentaliste demande à un spectateur d'écrire sur un billet son heure de naissance. Ce billet est plié en 4 et tenu en main par le spectateur.
Le mentaliste demande à un autre spectateur d'enlever sa montre, de la retourner face en bas et de dérégler, au hasard et sans regarder, l'heure de sa montre en tournant lui même les aiguilles de sa propre montre.
Il s'arrête quand il veut. Lorsque le deuxième spectateur a fini de dérégler sa propre montre, il la retourne face visible et annonce l'heure à laquelle il a lui même sans regarder, arrêté les aiguilles...
C'EST EXACTEMENT L'HEURE DE NAISSANCE DU PREMIER SPECTATEUR !!!

Points forts :


Pas de complice

Pas de matériel

Tout est emprunté

Très gros impact sur le public

Effet n°3 : Télékinésie avec une montre

Le mentaliste emprunte une montre à un spectateur. Sans qu'il ne la touche, celle-ci s'arrête. Après avoir vérifié l'heure sur laquelle elle s'est arrêtée, cette montre est placée dans les mains du spectateur.
Le mentaliste se concentre, le spectateur ouvre les mains...Sa montre retarde de plus d'une heure... et elle remarche.

Points Forts :


Montre empruntée

Effet net, sans "bidouillage

Effet n°4 : Souvenirs souvenirs

Le mentaliste devine sans hésiter des souvenirs d'enfance, des noms ou des évènements de la vie de 4 spectateurs que EUX SEULS POUVAIENT CONNAITRE (le nom de la poupée d'une femme lorsqu'elle était petite fille, le nom de l'animal de compagnie d'un spectateur lorsqu'il était enfant, le prénom du "premier baiser", un souvenir très précis etc.
Ce tour est inédit, je le réalise dans chacun de mes shows et l'impact est hallucinant ....
Les réactions sont toujours les mêmes : C'est incompréhensible, il ne pouvait pas savoir, comment a t'il pu deviner...

Effet n°5 : Mémoire prodigieuse

Une calculatrice est examinée par le public (Elle peut même être fournie par l'organisateur et donnée au mentaliste dans son blister pendant le spectacle) Elle est donc TOTALEMENT NORMALE.
Un annuaire est donné à un spectateur.
Quatre spectateurs pensent à un nombre de 5 chiffres et font eux même l'addition sur la calculatrice (le mentaliste ne touche jamais celle ci).
Le dernier spectateur annonce lui même le résultat de l'addition qui est inscrit sur un tableau.
Le mentaliste se concentre, et demande au spectateur qui tient l'annuaire de l'ouvrir page 454, donne le nom et l'adresse de la personne dont le N° de téléphone est .....Le résultat de l'addition

Points forts :


Pas de complice

La calculatrice est normale et donc examinable avant et après.

Et plus encore…

Langue : français – Durée : environ 2h.


Return to the catalogue






We advise you with this product :
2.
DVD Pur Mental (Vol.2)
35 €
Articles of the same author:
Serge Arkhan