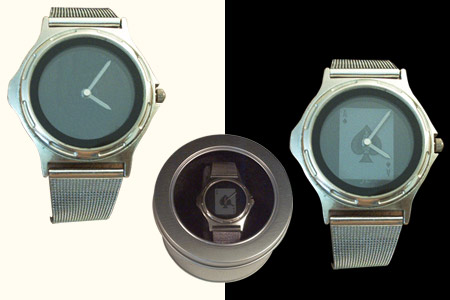 Description
Voici un tour à effectuer
n'importe où et n'importe quand
puisque c'est votre montre qui vous permettra de le réaliser.
Demandez à un
spectateur de choisir une carte
dans un jeu traditionnel qu'il ne vous montre pas bien évidemment.
Dites lui que vous possédez des dons de mentalisme très puissant et qu'après un petit lapse de temps de réflexion vous serez capable de retrouver cette carte et de
la faire apparaître dans le cadran de votre montre sous les aiguilles
!
Montrez alors la montre au public, elle donne réellement l'heure…puis pour corser le tout déposez là dans la main du spectateur…lorsqu'il va ouvrir sa main la stupéfaction sera de taille, puisque
sa carte apparaîtra bien sous les aiguilles…
Le tour est toujours prêt
La montre donne réellement l'heure
Aucun complice n'est présent
Facile à faire

Return to the catalogue


We advise you with this product :
1.
Champagne card
12.5 €

2.
Carte sur le bout de la langue
8.5 €