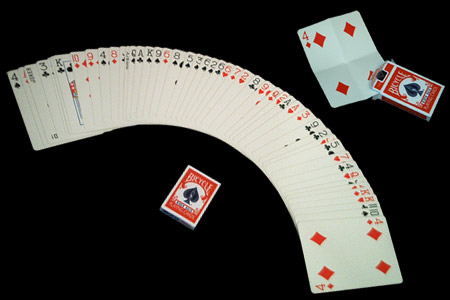 Description
Un tour à réaliser en
close-up
qui amusera beaucoup votre public.
Montrez leur un
paquet de carte Bicycle normal
.
Dites leur que vous allez tout simplement prendre les cartes du jeu, ouvrez le paquet, posez l'étui sur la table…et là stupéfaction des spectateurs
l'étui de cartes s'est miniaturisé
!
Les rires sont assurés !
Pour corser le tout, récupérez les jokers en disant qu'ils ne vous serviront plus à rien et rangez-les. Tenez les cartes,
effeuillez le paquet
et demandez à quelqu'un de dire stop quand il veut, il lui semblera alors choisir une
carte au hasard
.
Rassemblez les cartes, puis déposez chaque carte sur la table pour retrouver la carte sélectionnée.
La carte en question n'est plus là…ou a-t-elle bien pu se cacher ?
Prenez un air interrogatif, regardez le
mini paquet de cartes
, ouvrez-le…
la carte sélectionnée est bien là, pliée dans le paquet
!
Applaudissements garantis !

Return to the catalogue


We advise you with this product :
2.
Blush Deck
8.5 €