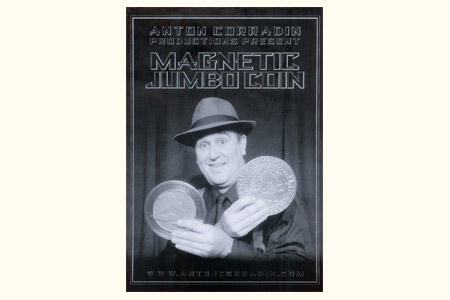 Description
Cette
pièce magnétique géante de ½ dollar
vous permettra de réaliser une routine parfaite.
Comme son nom l'indique, il s'agit d'une
pièce magnétique de 17 cm de diamètre
qui adhère à n'importe quelle
surface métallique
même la plus petite qu'il soit.
Cette caractéristique vous permettra de laisser la pièce sous une chaise, sur le pied d'une table et de la charger au moment requis.
Vous recevrez également un
gimmick
pour placer la pièce à n'importe quel endroit de
votre corps
et réussir
la charge la plus rapide, la plus nette jamais vu
.
Cette pièce est accompagnée d'un
DVD (en anglais)
expliquant clairement
3 routines
et beaucoup d'autres idées à réaliser.
Fort pouvoir magnétique et finition artisanale.

Disponible en pièce de deux euros et d'un demi-dollar.

Alors n'hésitez plus à inclure cet incroyable effet à votre routine de close-up ou sur scène !

Return to the catalogue


We advise you with this product :
1.
Jumbo 1/2$
5 €

2.
Dvd 'Basic Coin Magic Vol.1'
34 €

3.
Expanded Shell - ½$ - Head side
22.5 €